Name Change After Divorce In India: Changing your name after a divorce in India can be a significant decision. It involves legal and emotional considerations. This article serves as a comprehensive guide, providing a step-by-step procedure to help you navigate through the Gazette process. It aims to make the complex procedure easy to understand. It will provide you with clear and simple instructions to help you through this procedure.
Divorce is a significant life transition event that affects an individual's personal life. It is common for divorcees to contemplate changing their names after a divorce for various personal reasons. They might search for a new beginning as a single person and move on from their past into a new phase. Changing one's name after divorce can be seen as a symbol of independence.
There are procedures and conditions that must be followed when an individual changes their name in India. You are free to change either your surname or your first name, or both at the same time. Always follow the legal requirements as closely as possible to have a smooth and hassle-free name change. 
Reasons to Consider a Name Change After Divorce
Going through a divorce is a significant life event, and for many individuals, changing their name can signify a new beginning. Here are a few common motivations:
Emotional Healing: Changing your name can serve as a symbolic break from the past, helping in the process of emotional recovery.
Reclaiming Identity: Some people choose to revert to their maiden name, reclaiming their pre-marital identity and embracing their individuality.
Cultural or Religious Factors: In certain cultures and religions, name changes after divorce are encouraged, and in some cases, even required.
Changing your name after a divorce can be a meaningful step towards embracing a fresh start and finding personal empowerment.
What are the Conditions for Name Change After Divorce in India?
Different states of India can have different requirements to qualify for a name change. Even then, the general conditions are as follows:
Divorce Decree: You should have a divorce decree granted by the court. The appropriate court must recognize and accept the divorce decree.
Approval of the Court: According to Indian law, you must present the court's approval or permission to change your name. 
No Pending Legal Proceedings: Your divorce or any other matter should not have any pending legal lawsuits or proceedings.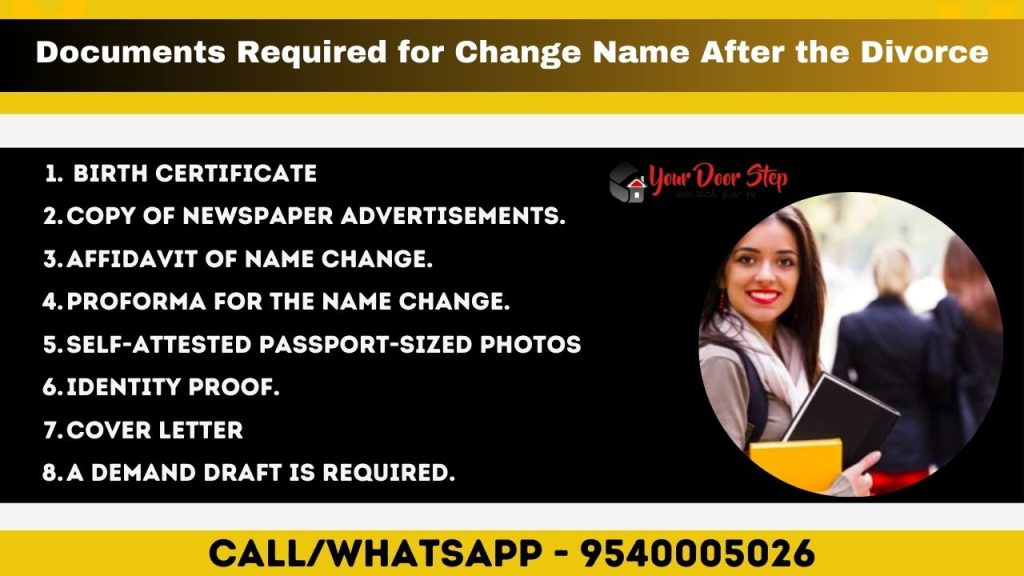 Documents Required for Change Name After the Divorce-
It is essential to follow the specific procedures and provide appropriate documents to have your name change request successfully passed in India. 
In general, the following documents are needed-
Application Form: An application form is essential to put in the request to change the name. The form is available from your local government office, or you can get it online from the government website. 
Divorce Decree: You must present your divorce certificate before the authorities as proof of your divorce because the court has declared your marriage as ended in this document. 
Affidavit: An affidavit or a written statement must be submitted after the divorce to have your name changed. The statement should include your reason for changing the name, your current name, the name you would like to change to, and your present address. An executed magistrate or public notary must sign the affidavit.
Newspaper publication: Get your name published in two local newspapers, one in English and one in your mother tongue. Save the copies of the original and scanned versions of your printed announcement for the name change. The goal of this publication is to announce the name change officially.
Identification proof: For proof of identification, you can show your Aadhaar Card, PAN card, or voter ID card. The name in these proofs should be your name during marriage.  
Address Proof: You should also present documents that show your current address, such as an Aadhaar card, bank statement, or rental agreement.
Passport-sized Photos: You might be required to present at least two recent passport-sized photos.
Marriage Certificate:  Your marriage certificate proves it connects you to your old name. It is best to carry your marriage certificate even though it is optional, as it may or may not be asked.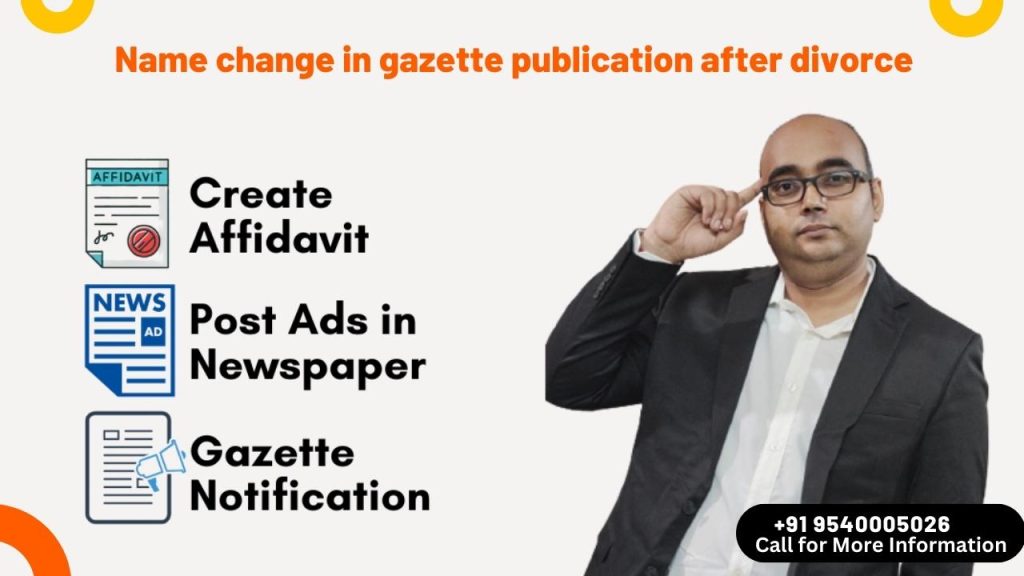 Name change in gazette publication after divorce
Duplicate of the divorce judgment: Make sure you have a copy of the divorce judgment that the court issued. This document proves that you were divorced and check your divorce decree to ensure it allows for a name change.
Prepare an affidavit:
Create an affidavit stating that you want to change from your old name to your new name and head to your local notary. The affidavit should state that you are divorced, the reason for changing your name, and, most importantly, the new name you have chosen for yourself. Keep a copy of this affidavit in case there is any need for it in the future. 
Publication in Newspaper:
Formally announce that you would like to change your name after divorce in at least two newspapers, one of which should be in the state's official language and the other in English. The newspaper advertisement should have your old name, your chosen name, and a statement that no one objects. You have the option of either giving the newspaper publishers the name change structure or requesting them to give it to you so that you can use it for the ads.
Publication in the gazette:
Get in contact with your local Government Press or Publications department. Now submit your name change application and all the required documents such as divorce decree, affidavit, etc. Pay the required fees and get the receipt.  
Await the gazette publishing: Now, after successfully submitting the documents, there is a waiting period. During this period, the official gazette confirms your identity along with your documents and publishes the name change. 
Get a duplicate of the gazette notification after the publishing of your name change: Contact your local  Government Press or Publications Department. They can provide you with a copy of the gazette notification after it has been published in the gazette. You can now prove in court your name change with this gazette notification.  
Update your documents: Update your Aadhar Card, PAN card, passport, etc., with the gazette notification as proof. Visit the appropriate offices in charge of these documents and follow their name-change procedures.
What is the Benefit of Name Change After Divorce in India?
Indian women are traditionally expected to change their names after marriage. It is essential to keep in mind that changing one's name after marriage has always been a matter of choice or tradition and is never required by Indian law. After a divorce, changing one's name in India can have several advantages. 
Here are a few benefits to explore-
You can have control over your new identity, which will make you feel liberated. You can make personal growth that is appropriate for your life with your new name after divorce.
Changing your name after divorce can serve as a representation of a new beginning and help with mental healing. It can help you to let go of your past and your old identity and make new self-discoveries. 
Changing your name after divorce means no more unnecessary interactions that will remind you of your past. Your friends and family will eventually get used to your new name, and you will slowly be able to move on from your previous marriage. 
If you have children from your previous marriage, then you can even change their names so that you and your children have the same name. This will strengthen your bond with your children and create a stronger sense of family unit. Legal, medical, and school-related obligations also become easier when you and your kids have the same last name. 
If you have been through domestic abuse in your previous marriage, changing your name after divorce is an excellent choice. You will get a sense of security as it will be difficult for your abusive ex to locate you.
Rules to Keep in Mind for Change the Name After Divorce
The name shouldn't be derogatory or obscene.
You cannot choose a long, punctuation-heavy name.
The Court will not allow you to change your name to that of a famous person unless you can show that you do not wish to deceive anyone.
You cannot change your name if you want to avoid debt or legal issues. 
Practical considerations that you should keep in mind After Divorce
When changing your name, it's important to consider more than just the legal and emotional aspects. There are practical considerations that you should keep in mind:
Professional Life: Make sure to inform your workplace and colleagues about your name change. Update your email signature, business cards, and any work-related records with your new name.
Social Circles: Notify your friends and social contacts about the name change. Remember to update your name on social media platforms.
Children's Names: If you have children, have a discussion with them about the potential impact of your name change. This can help them adjust to the change smoothly.
By considering these practical aspects, you can navigate the process of changing your name more effectively.
What is the Cost of Name Change After Divorce in India?
Stamp paper may cost Rs5 or Rs10.
The printing charge for registering a name change is Rs. 1100 per person. You can pay the printing costs by demand draft or cash payments in advance and address it to the Civil Lines Controller of the Department of Publications.
Indians living abroad have to pay Rs3500, inclusive of air mail fees to the Indian gazette.
The cost is Rs. 35 per copy for additional Gazette copies, with a limit of 2.
There is documentation and other costs too. You would have to pay for official copies of the divorce judgment, marriage certificate, etc. 
Tips and Considerations for Changing Your Name
Name Change for Children
If you have children, it's important to consider how changing your name will affect them. If you intend to change their last name to match yours, you may need the consent of the other parent. It's advisable to consult with a family lawyer in such cases. Open and honest communication with your children about the name change can help them understand the reasons behind it and address any confusion or concerns they may have.
Updating Official Records
Changing your name in the Gazette of India is a crucial step, but don't forget to update your name on all official documents and records. Promptly update your name on your Aadhar card, passport, driver's license, bank accounts, and any other relevant documents. Failing to do so may lead to complications in various aspects of your life, including financial transactions and travel.
Maintaining Copies of Documentation
Throughout the name change process, it's important to keep copies of all related documentation. This includes the Gazette notification, affidavit, and any correspondence with government authorities. These documents may be required for future reference. Having organized records will simplify any future requests for name verification.
Conclusion –
Changing a name after divorce requires many essential legal procedures. Therefore, it is advisable to understand these procedures and follow them step by step properly. The successful change of name after divorce is a mark of an individual's newfound independence so they can fearlessly move on to the next chapter of their life with their new name.
Frequently Asked Questions
What is the total time taken for a name change after divorce?
The procedure usually takes 10 to 15 days.
Is it compulsory to change your name after divorce in India?
No, the Indian law does not mandate you to change your name after divorce.
What to do after updating the new name in the documents?
Inform the relevant authorities about the name change as well as your friends and family.
Can you change your name after divorce without the consent of your previous spouse?
Yes, you do need your previous spouse's consent to change your name. 
Also Read: