Gazette Notification for name change in Karnataka: Gazette publication is required for name change. In this article, we are going to share the full procedure to publish Gazette Notification for name change in Karnataka.
In Indian, people change their name For a variety of reasons, including marriage, astrology, numerology, and others. But when it comes to following government protocol, they run into problems. There are different processes to follow in various states. An announcement in the gazette, however, is something that can be found everywhere. You might also say to issue a notice of your name change in the state gazette. The process of Gazette notifications for name change in Karnataka is manual when compared to other states.
If you want to change your name online you can contact yourdoorstep, We are the best name change agent in India. Contact yourdoorstep to get your name change online.
Reasons for name change in Karnataka
There are numerous reasons for renaming yourself, including
Missing or not expanded initially
Missing middle or last name
In certificates issued by colleges or schools, the name is different.
In identity documents, the name is different.
By accident or during the English to local language translation, the name has been misspelt
Women's name changes after marriage
If a woman remarries after a divorce, her name must be changed.
Name change on birth certificate and transcript, particularly for a passport.
Due to spelling errors in the previous name, a name change was made
Eligibility for Name Change in Karnataka
A person older than 18
A minor's name can be changed by the guardian or parents.
The individual must have a valid government ID.
The individual should have a good justification for changing their name.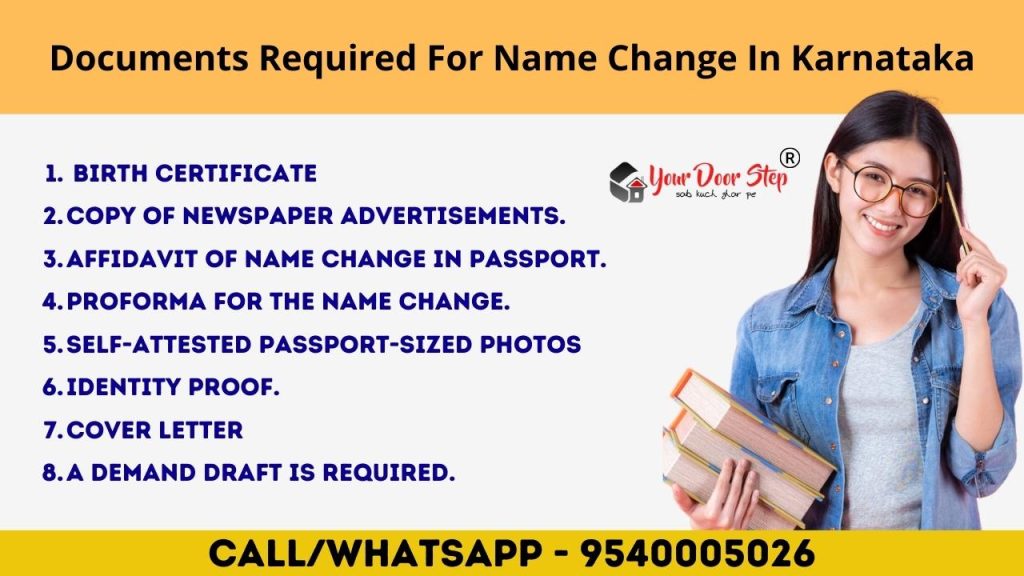 Documents Required For Name Change In Karnataka
 You must provide the following documents in order to have your name published in the State Gazette.
An affidavit that has been properly completed and witnessed by a notary public or legal magistrate.
The announcement of the name change's initial publication.
Form that must be computer-typed, not handwritten, and bears the signatures of the applicant and two witnesses.
The application's MS Word soft copy (typed text, not a scanned copy), located on a C.D. In lieu of a signature, the applicant must provide their previous name; witness information is not necessary.
A statement in which the applicant attests to the similarity of the content between the hard copy and the electronic version. The applicant's correct signature on the certificate is required.
Two self-attested, passport-size photos from the applicant.
A copy of a valid ID that bears the applicant's self-attested signature.
A request letter and the sum of money needed, as specified by the Authority.
Procedure to Publish Gazette Notification for name change in Karnataka
Step 1- Affidavit Submission for changing the name legally in Karnataka
The first step in the legal process of changing your name is submitting your affidavit. For the necessary action, you need speak with a notary. By performing the subsequent actions, you will feel more clear:-
For your required purpose, speak with your neighbourhood notary.
The notary before whom the affidavit is made would recommend the stamp paper of the required value. 
Once you obtain the paper, you must fill out the following information:
current address
both your old and new names
The exact justification (astrology, numerology, marriage, etc.) for the name change
The affidavit is printed on simple stamp paper after printing, and two witnesses must sign it. You must obtain the signatures of two gazetted officers in order to follow the legal procedure. Make careful you obtain both their signatures and their rubber stamps.
Women who are getting married, are already married and wish to alter their last name or add their husband's name as initials must complete the following information:-
Old name, along with their fathers' names and addresses.
Their new name, the husband's name and address, and their new name.
Date, When they got married.
Your old name and your new name should also appear on the affidavit.
A copy of the affidavit should always be in your possession. This is a significant document that will be useful for any upcoming legal formality.
Deeds stating name changes must be submitted by Indians who are living abroad and need to change their names. The deed must be properly signed by the Indian High Commission or Indian Embassy.
Step 2- PUBLICATION IN NEWSPAPER
After completing the first step of creating an affidavit and submitting it, you must post an advertisement or notice about your name change in the neighbourhood newspaper. You can choose between two newspapers for this: one that publishes in the state's official language and the other, an English daily. 
You must choose two well-known daily publications and make a request to them with the following information:-
Your updated name
Earlier name
Birthdate and Address
Step 3 – Gazette Notification
This stage marks the end of the process. Your new name will become official once it appears in the Gazette.
The name change notice in the gazette is optional for persons who are not government workers. It is taken as indisputable evidence that your name has changed. It may make sense to proceed, given that it only requires sending a few documents for publishing.
What is the format for a name change affidavit in the Karnataka gazette?
Fee Structure For Name Change in Karnataka:-
Major Employee Name Change Fee: Rs. 1,100 + Rs. 250 Extra As Per Change and Correction\
For a minor child, the name-change fee is Rs. 1,700 plus an additional Rs. 250 for changes and corrections.

For government employees, the name-change fee is $1,100 plus an additional $250 for changes and corrections. 
For a person residing abroad: 7,500 rupees
Legal Recognition and Implications
It is essential to officially change the name by complying with all requirements. Their name expresses a person's identity, and any changes to that identification must be done legally our names appear on every piece of documentation, including Aadhaar cards, PAN cards, bank accounts, birth certificates, mark sheets, etc., which is accepted as legal identification for a variety of transactions and applications. This is because technology is incorporated into many facets of our lives. 
Therefore, before making changes to the ID proof documents, it is imperative that the identification of a person be legally updated and validated by the relevant authorities. Some people hide behind different names to carry out their illicit activities, including credit card fraud, identity theft, unlawful signatures, etc. Thus, to promote accountability and transparency, the name must be entered in a government record (the official Gazette).
Except for the following names, citizens of India are free to modify their names as they please:-
Unless you can demonstrate that you have no intention of deceiving the public, names of notable people
Names that are vulgar or hurtful
Complex names requiring punctuation
A person's name may be changed at any moment during their lifetime. Writing an affidavit, placing a newspaper ad, and publishing a notice in the Indian Gazette are the only ways to do it lawfully. The individual may begin using the new name and request that it be changed on any ID proof documents after the name change is announced in the Gazette.
Frequently Asked Questions (FAQ)
Q.1 Where Can I Get The Gazette Copy?
Ans: The Gazette can be downloaded from www.egazette.nic.in.
Q.2 What Hours Does the Indian Government Gazette Office Operate?
Ans: On all working days, the Gazette of India's Delhi office is open from 10 AM to 1 PM and 2 PM to 3 PM.
Q.3 How long does it take to get a notification from the Gazette?
Ans: The Gazette's name can often be changed within 30 to 45 days.First, submit your documents. 
Q.4 Can I use the new name before receiving the Gazette notification?
Ans: Once the gazette announcement is issued, your new name is legally binding for all reasons.
Q.5 How do I officially alter my name in Karnataka?
Ans: Through online publication of a gazette notice, the procedure for a name correction or change in Karnataka can be completed easily.
Q.6 What is a Gazette Notification?
The Government of India Press prints The Gazette of India, a public newspaper and a legally valid publication of the Indian government.
The Gazette publishes official government notices as a public periodical.
Conclusion
A person's name may be altered at any time during their lifetime. Writing an affidavit, placing a newspaper ad, and publishing a notice in the Indian Gazette are the only ways to do it lawfully. The individual may begin using the new name and request that it be changed on any ID proof documents after the name change is announced in the Gazette.
Also Read: