If you were born in the SDMC or Sout delhi zone of Delhi, then you are eligible to add name in sdmc birth certificate or apply for a Sdmc birth certificate. This document is important as it serves as official proof of your identity and date of birth. The process of adding a name to a Sdmc birth certificate or applying for a birth certificate in Sdmc Delhi is fairly simple and straightforward. All you need to do is gather the required documents, fill out the application form, and submit it at the SDMC birth certificate office. In most cases, you will receive your birth certificate within a few days. The same process can be followed for applying for a Sdmc birth certificate online. However, it is important to note that you will need to provide additional documents such as a copy of your passport or other identification documents. Once you have submitted all the required documents, you will usually receive your birth certificate within a few weeks.
The birth certificate of any person or child is a crucial document of their life. It gives you the identity of your child. But the more crucial task is to add the right name to your birth certificate because any document or government paper is supposed to be irrelevant and unusable without a proper name. Fortunately, if your child has been born in any hospital in south Delhi and you are a permanent resident of south Delhi, then you can easily add your child's name to their birth certificate. All you need to do is follow all the steps which have mentioned below in this article.
What is SDMC Birth Certificate?
A birth certificate is the first document of a person which certifies that a person is born at a particular place and in a particular house. It gives a child and a person an identity of his own. The government has made the birth certificate a compulsive document for everyone. When the child is born, it is registered by the hospital for its birth certificate.  However, your child's name would not have been given in it. That is why one needs to add a name to it. Essentially it is a document that gives to the identity of your existence in this country.
Document Required to Add Name in Birth Certificate in SDMC
Below is the list of documents you may need at the time of adding a name to a birth certificate through the South Delhi Municipal Corporation (SDMC)
Registration slip of the hospital
Birth proof
The mobile number which you have given at the time of registration in the hospital (A number must be in the active mode to get an OTP)
Father's ID card (Aadhar/Voter/passport etc.)
Mother's ID card (Aadhar/voter/passport etc.)
Residency location
Parents name
Date of the birth
Eligibility to Add Names in Birth Certificate in SDMC
That are no eligibility criteria imposed by the government. However, you need to fulfill the basic requirements, which are listed below:
The child should have born in only those hospitals which come under SDMC
Parents should have a permanent residency in the South Delhi
The mother and Father should have all the required documents for verification purposes.
Who Can Apply Sdmc Birth Certificate
Anyone who is associated with the child in any way can apply to add the name to the birth certificate. However, the most common who can apply is
Mother
Father
Agent
Any agency
Other family members
How to Add Name to SDMC Birth Certificate Step by Step Process
To add the name to your child's birth certificate, you can follow the below process, which has been mentioned here in detail:
Step 1: To start adding the name. First, you need to go to the website of SDMC, which comes under the Delhi Municipal Corporation(DMC). So, you just need to open any of your browsers and search for SDMC ( South Delhi Municipal Corporation and then click on the first Link of the search result. to make your work easier, click on this link to go to the official site of SDMC:   https://mcdonline.nic.in
Step 2: After visiting the site, you'll visit the official website, where you'll get 3 options for a different site, as you need to add a name in SDMC. So, you have to choose the 2nd option, which is the south Delhi municipal corporation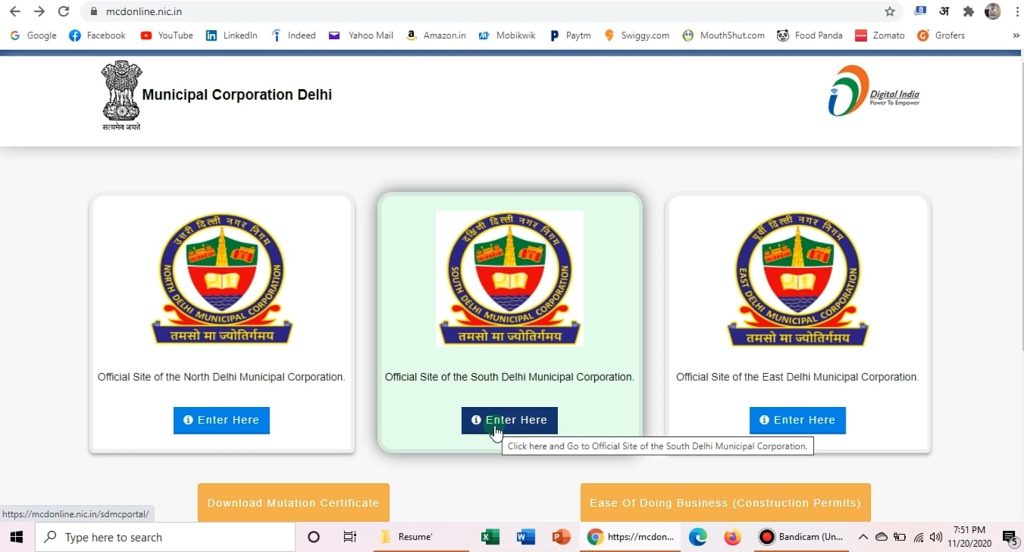 Step 3: Once you click on the SDMC option now again, a new interface will open, where you will get four options. Tab on the first button showing Registration of birth and death and then click to citizen login.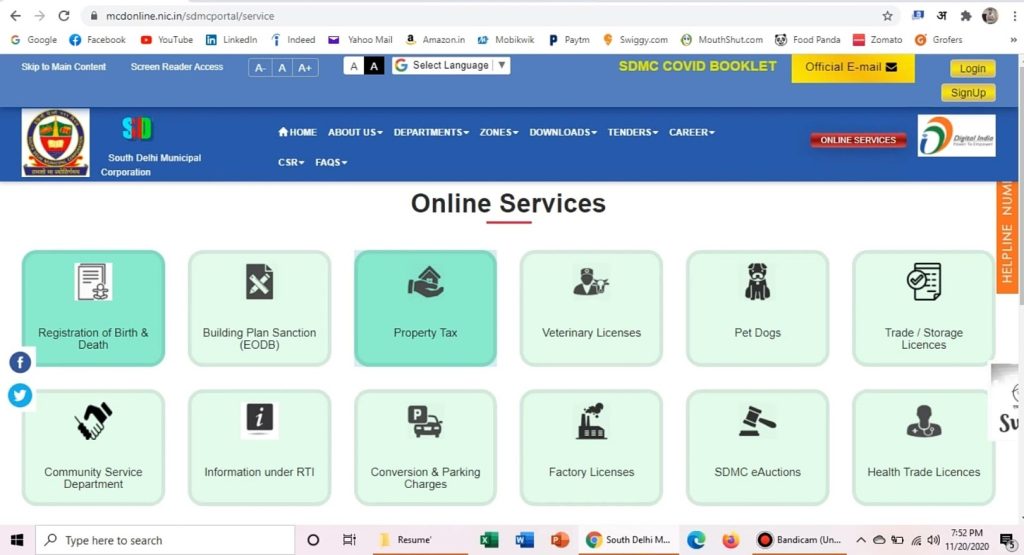 Step 4: As soon as you click on the citizen login, you'll be redirected to the login page. You'll be asked for the mobile number to generate OTP; if you have never logged in before, then you should click on the new user sign-up option to create an account. Otherwise, if you have ever signed up before,  you can proceed by giving your mobile number for OTP.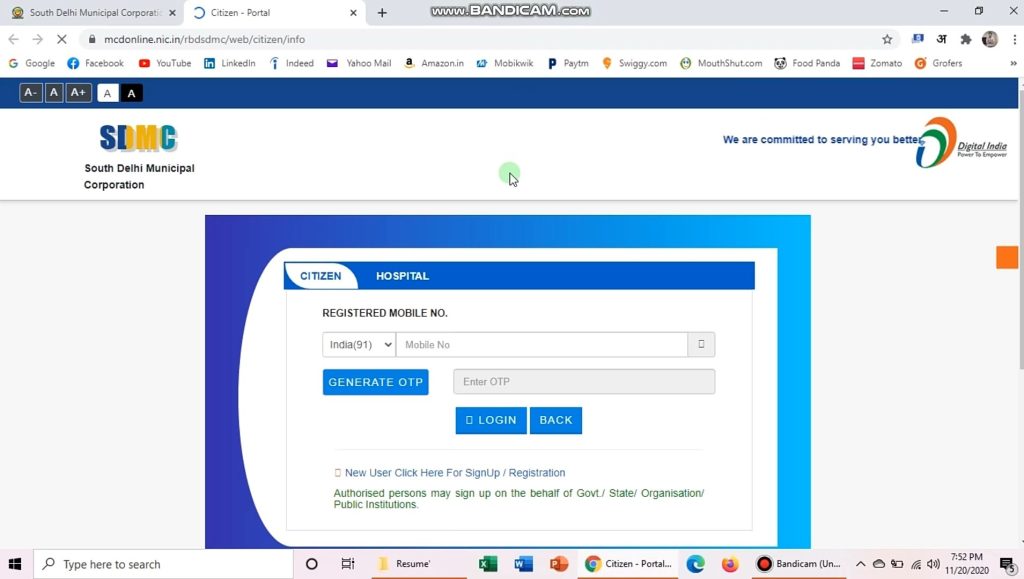 Step 5: If you click on the signup option, you'll get a form to fill up for registration and signups. Fill up all the information and details, and then click on the submit option.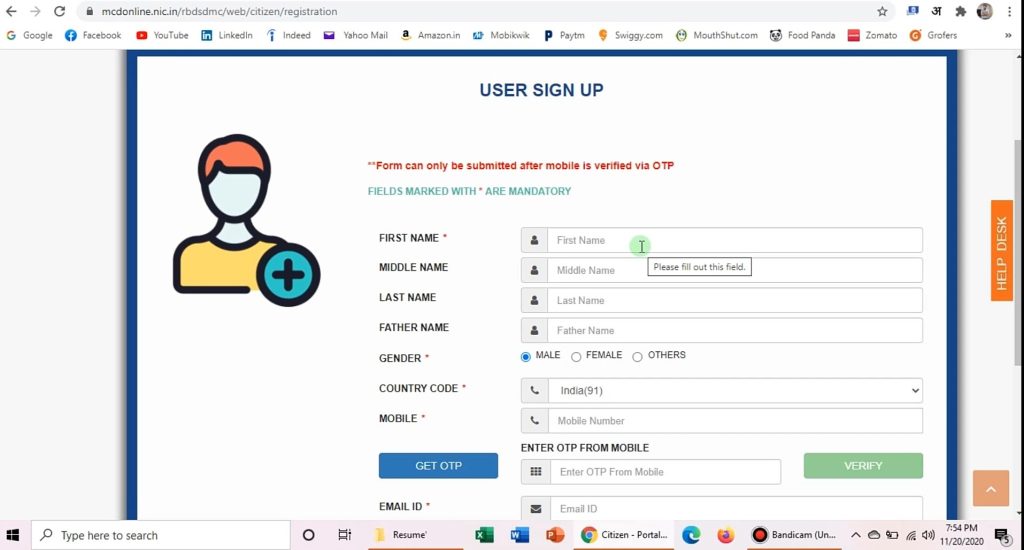 Step 6: Now, you will be redirected to the main dashboard. Scroll down to the end of the page and click on the 'Search Old data and print certificate' option.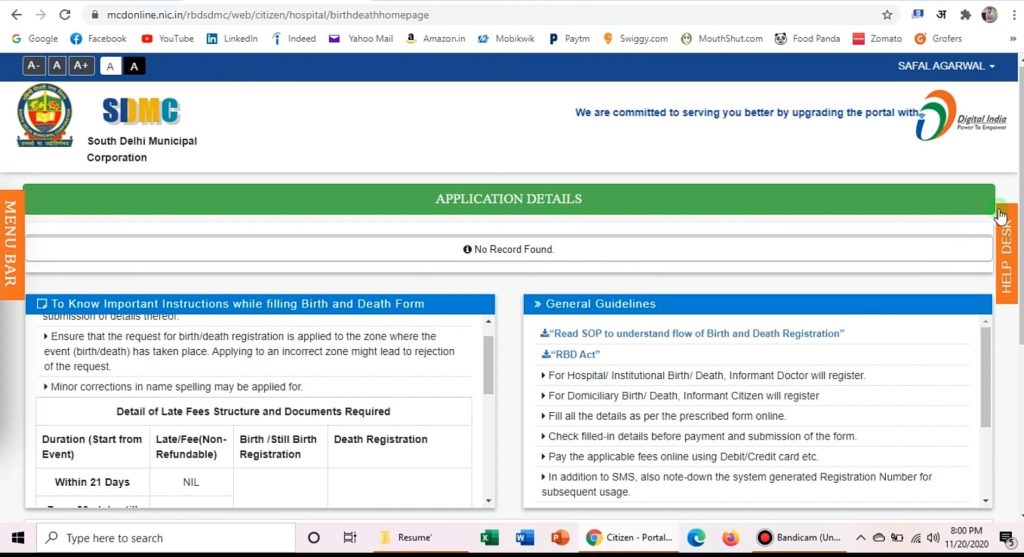 Step 7: Again, you'll be redirected to the new form.  Fill up all the asked Data carefully; you can take help from the hospital-issued document. Where you'll get the registration number and then submit it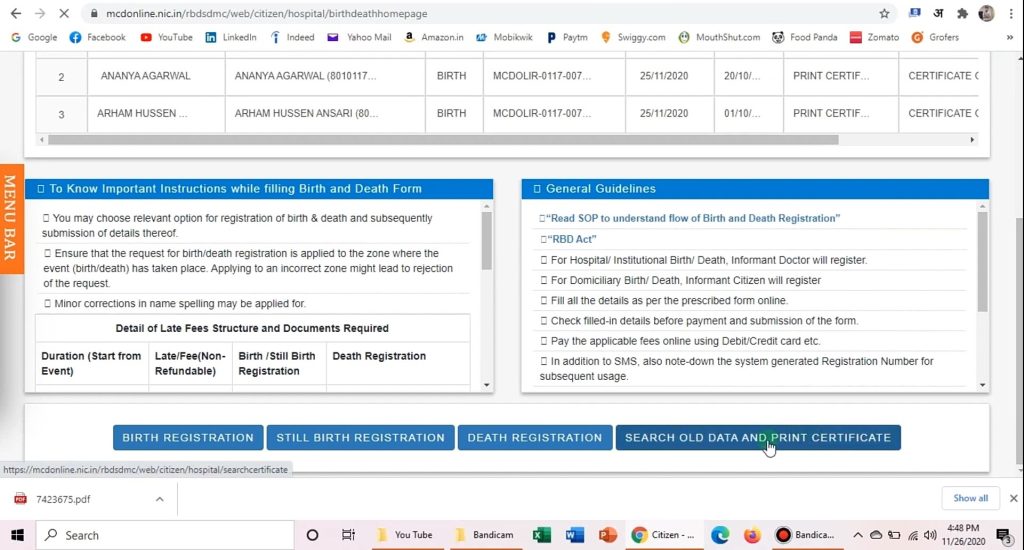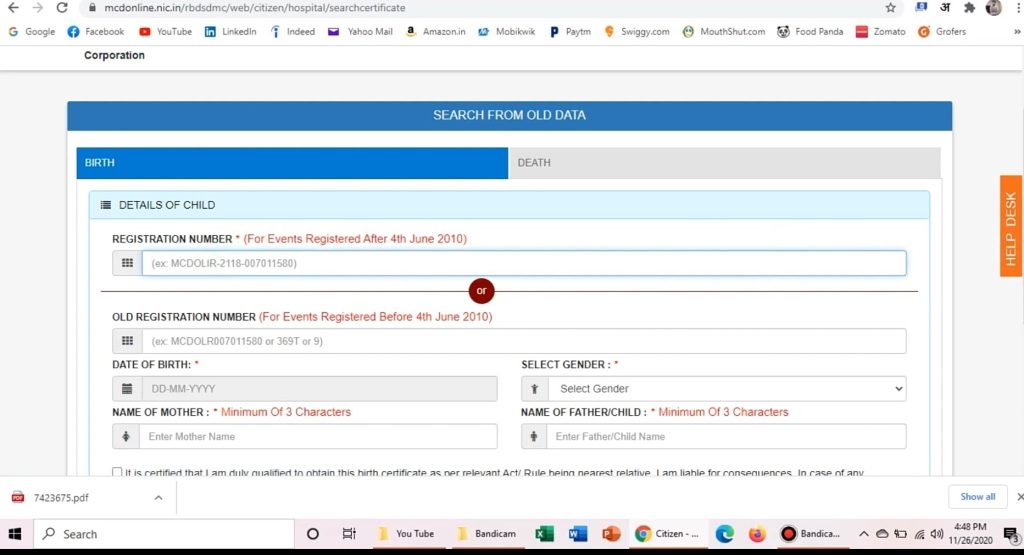 Step 8: Finally, you have reached the main profile, where you can add your name. Here in this new interface, you'll get the Action button. Click on that button and then the view and download option.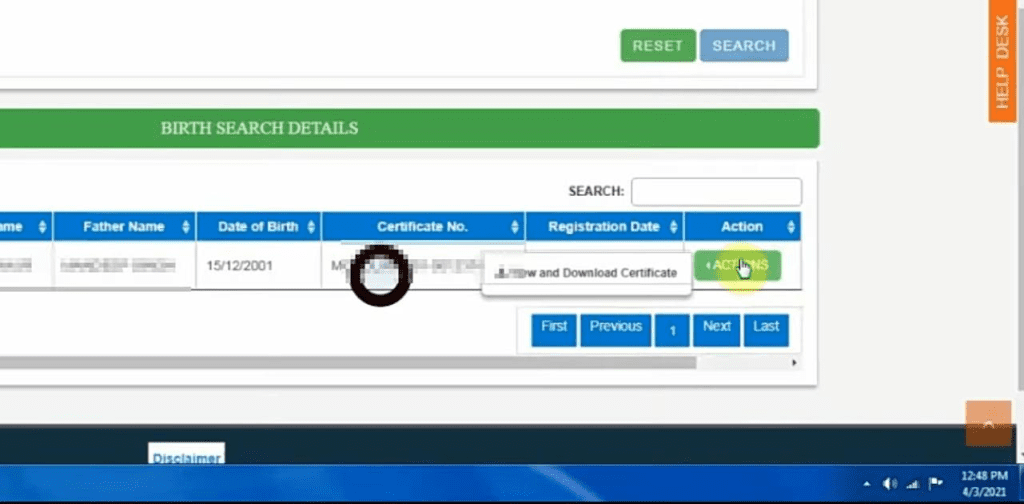 Step 9: scroll up and again click on the action button. Then you'll get the option of adding a child's name. Click on that add child name button.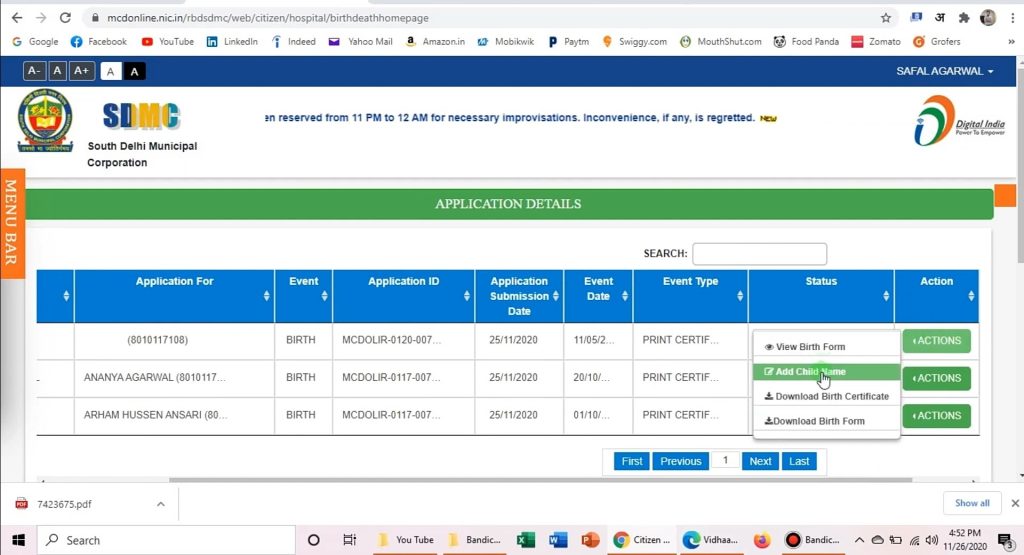 Step 10: A new form will open where you need to fill up your child's name, and then by scrolling down, you have to attach your Mother, child, and father ID card. Additionally, if you've any other supporting documents, then you can attach them to the last supporting document option.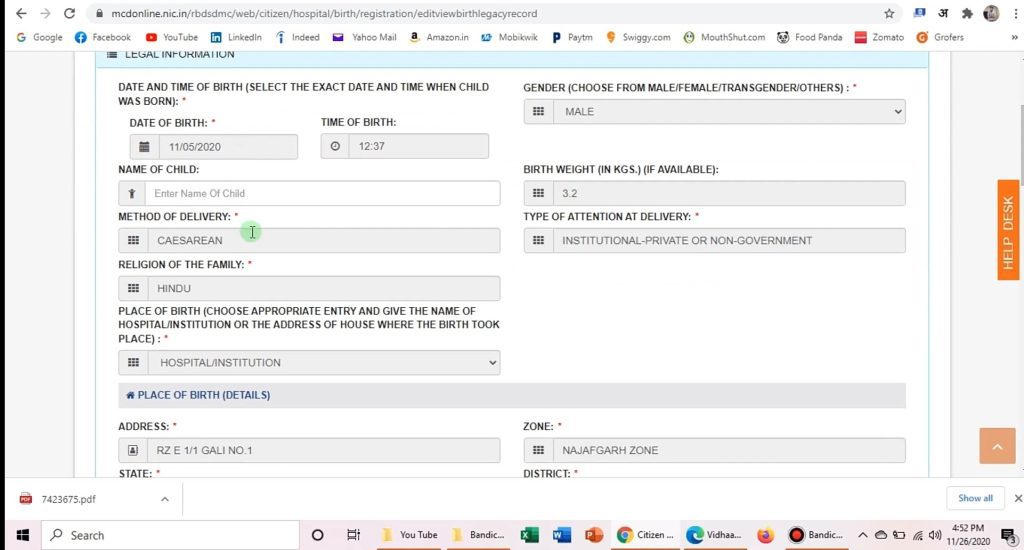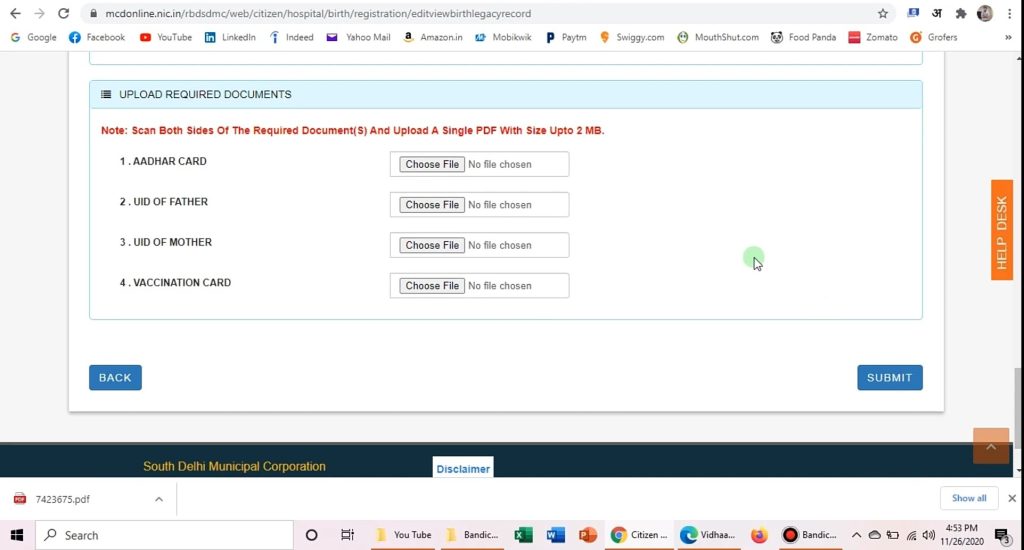 Step 11: submit the form, and one or two popups will open. You can tap to ok and proceed to the payment option
Step 11: In the next step, You have to pay 10 rupees. Please finish your payment and wait for the Interface of Successful payment.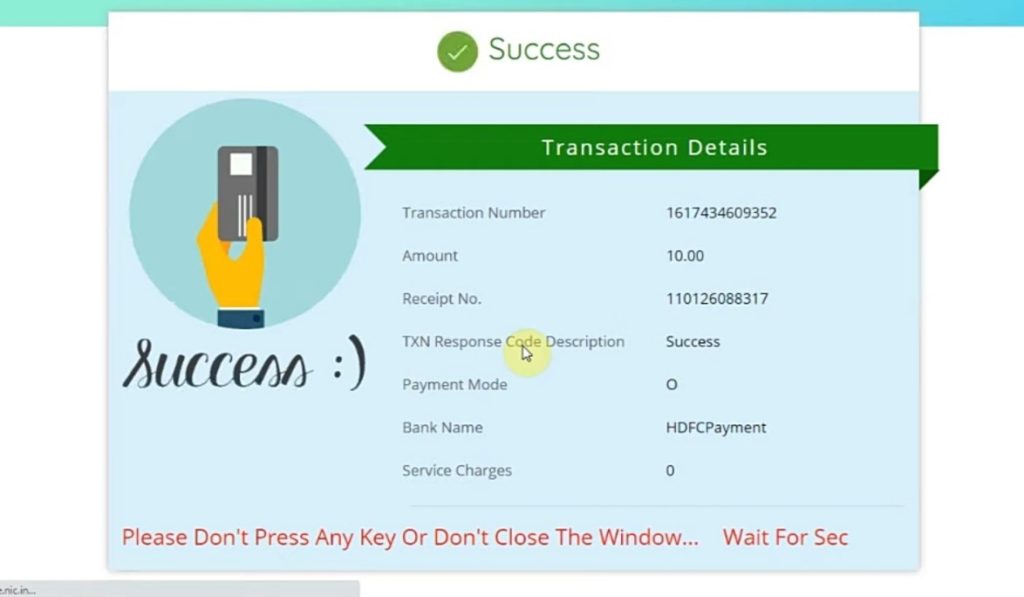 Step 12: As soon as your payment is made. Your request will be sent to the SDMC office. You can check your application status at the top of the Website interface, whether it has been approved, Pending or rejected, etc.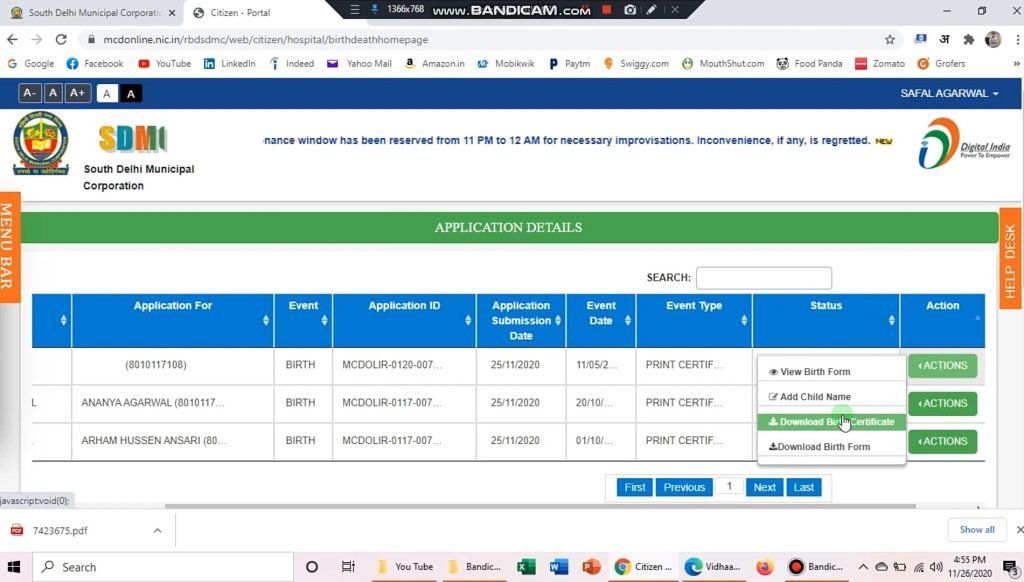 Step 13: Once your application is approved, you can download it by clicking on the action and the download button.
Advantage and importance of Sdmc Birth Certificate
Birth documents are relatively the first document of any person. So, it has its benefits, advantages, and importance.
First, if all it helps you to take admission in any government schools and education
It also helps to let you take the health and medical benefits.
A birth certificate further gives you marriage and voting rights after a certain age.
A birth certificate also helps you to get a government job easily.
FAQs About SDMC Certificate
Why do I need to add a name to my child's birth certificate?
Ans: You need to add the name to your child's birth certificate because without a name, no documents are supposed to be authentic and valid, and also, it gives you the identity of your child in the country.
What is an SDMC birth certificate?
Ans: Any birth certificate issued by the South Delhi municipal corporation comes under the SDMC birth certificate.
Can I check the birth certificate status?
Ans: Yes, Recently, The SDMC has updated their website, where the option of certificate status is showing, and you can check the same from there.
How much will I have to add the name to the SDMC north certificate?
Ans: You need to pay 10 rupees for the application. However, it can get costly if your name is through an agency or agent.