Hi Friends, have you recently changed your name in India and you need to update same in your passport in India as well? The process of changing your name in your passport might seem difficult, but things are not like that with the right guidance and understanding of the steps involved in "Name Change in Passport in India", it can be a smooth and hassle-free experience. This article will provide you with a comprehensive guide on how to name change in passport in India.
Name Change in Passport in India: A passport is a necessary document for allowing travel abroad and acts as identification and evidence of nationality. In this article we are going to share the procedure of Name Change in Passport in India.
There are numerous reasons why people change their names in passport in India, so it is important to accurately document and update any changes in order to maintain legal compliance and accurate identification in India.
In order to complete the process of Name Change in Passport in India, you must bring your original passport to a passport seva kendra in India. Yourdoorstep offers name change services for those who do not wish to go anywhere and wish to change their names at home and save there time.
Documents Required For Name Change in Passport in India
Here are the list of the required documents:
Affidavit signed by public notary
Letter stating the reason for name change
Identity proof (Aadhar, PAN, voter ID etc)
Name changing form
Photographs for attestation
Original birth certificate
Newspaper publications with date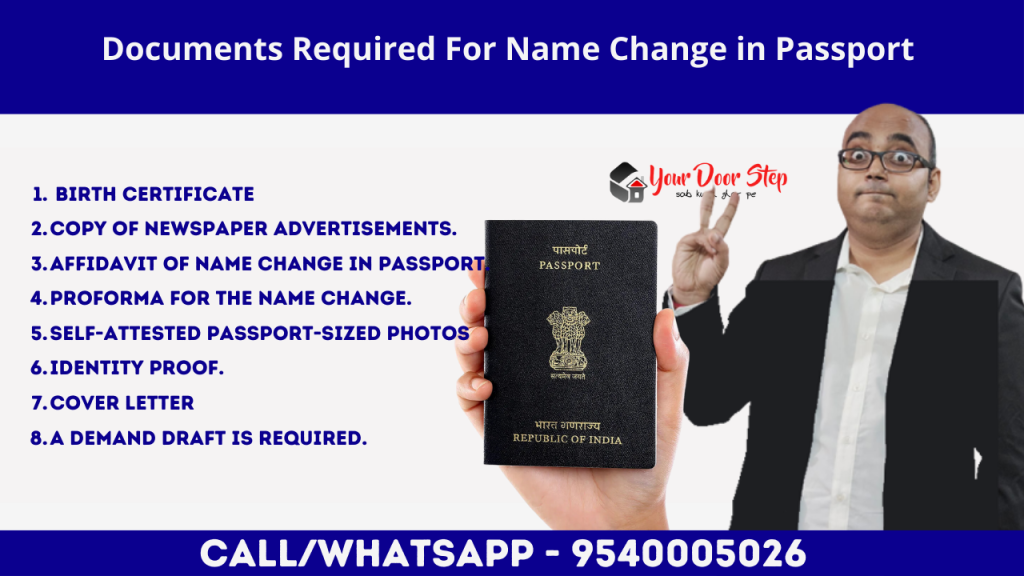 The significance of Name Change in Passport in India
A name change in a passport in India is significant since it allows someone to use their preferred or chosen name on all their identifying papers in India and world. It guarantees that their identification is appropriately reflected in their passport in India and gives the name change legal validity. This makes travel more accessible, removes the need for extra supporting documentation, and eases the difficulty of numerous official processes. 
A passport is an essential identification document, both domestically and internationally. To maintain consistency and accuracy in your records in India, it's vital to update your passport whenever your name changes in Passport in India. Failing to update your passport can cause complications during travel, visa applications, and official transactions. Keep yourself hassle-free by keeping your information up-to-date!
It enables people to provide consistent legal, financial, educational, and job identities. Changing your name on your passport can establish your identity better, ensure legal recognition, and make traveling and professional relationships easier in India.
Why Name Change in Passport in India Should be Updated?
For establish your identity better in India and world
For ensure legal recognition in India and world
For making traveling and professional relationships easier in India and world
Foreign Travel across India and world: A passport is a must for foreign travel. It allows people to travel borders, go abroad, and come home again while assuring efficient immigration processes.
Nationality as Citizen of India: A passport is an official document that attests to a person's race reside in India. It verifies their citizenship in India.
Legal Identification in India: A passport is a commonly accepted form of national identification. It is acceptable for official tasks in India and world, including opening bank accounts, requesting government assistance, and getting identity cards.
Consular aid: Passport holders traveling abroad may request consular assistance from their nation's embassy or consulate in an emergency, such as lost or stolen papers, medical problems, or legal problems.
Visa Applications for India Citizen: A valid passport is required for visa applications in many countries or in India. A key is a crucial prerequisite when applying for various visas, such as tourist, work, and student visas.
Financial Transactions in India: For critical financial transactions in India, such as opening a foreign bank account, making an overseas investment, or doing cross-border commerce, a passport may be required.
Reasons For Change Name in Passport in India
Most Indians continue with their birth name though it is not uncommon to see name changes. Often this step is taken due to various reasons and situations anyone faces during their lifetime. Some of the causes that could lead to a name change include:
When people do Marriage in India: Marriage can be one of the most common reasons for a name change, especially for women in India. After marriage many women, if not all, prefer to change their last name to their spouse's last name. 
When people do Divorce in India : If a woman has taken upon the spouse's last name after marriage in India, she could revert to her maiden name or adopt a new name after confirmation of their separation in India. 
In India, people can change their name on their certificates according to their personal preferences if they are not satisfied with their given name or desire a different name.
People of India change in the Child's Surname: A mother may wish her child to have her surname in case of an absent father in India. And in the other case, if a father steps in, the child could be adopted and the father's surname could be given to the child.
Citizen of India have religious and cultural reasons: Tendency is often seen in the name change according to their religious beliefs and cultural belongingness. If one is converting from one religion to another, name change is possible. If one desires one's name to reflect one's culture and identity in a deeper or lighter sense, name change could be seen.
Adding Two Surnames in India: Couples adding both of their surnames in their own names is regularly seen lately. 
Other Legal Reasons in India: There are several other reasons including gender identity, same-sex marriages, adoption, errors and inaccuracies in original certificates and many other legal, political and safety issues.
Gazette Publication Process for Name Change in Passport in India
There are essential and mandatory steps in this procedure.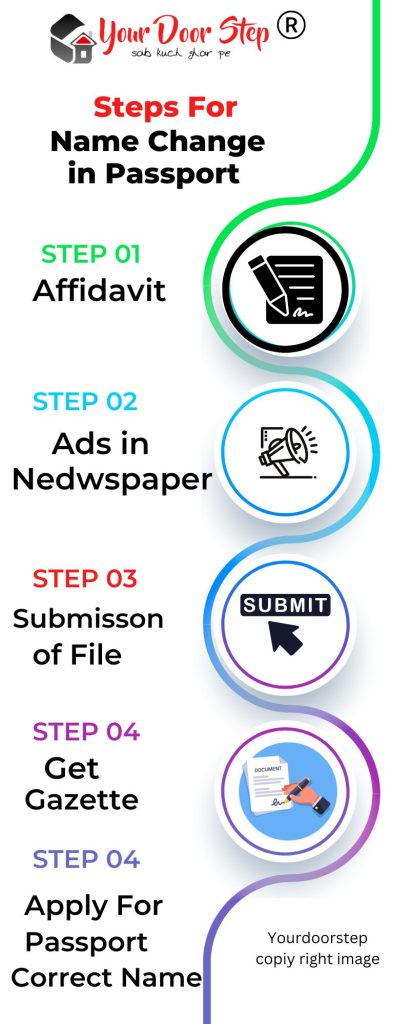 Step-1 : Submission of the Affidavit for Name Change in Passport in India
Take a Birth Certificate Correction form/Name Update Form from the respective local governing body in India. 
Fill the application with all the necessary details.
Get an affidavit notarized by a public notary stating the present name, new name and reasons for the change of name on a non-judicial stamp paper of minimal value and make sure the authority's sign is there.
Submit the application, affidavit along with necessary proofs at the municipal/tahsildar/panchayat office.
This affidavit serves as legal proof for your name change in future proceedings.
Step-2 : Newspaper Publication for Name Change in Passport in India
After obtaining the affidavit, publish an advertisement in local newspapers, one in english and other in local language. The notice should contain the details of your old name, new name and residential address. These serve as evidence for future use so secure these copies.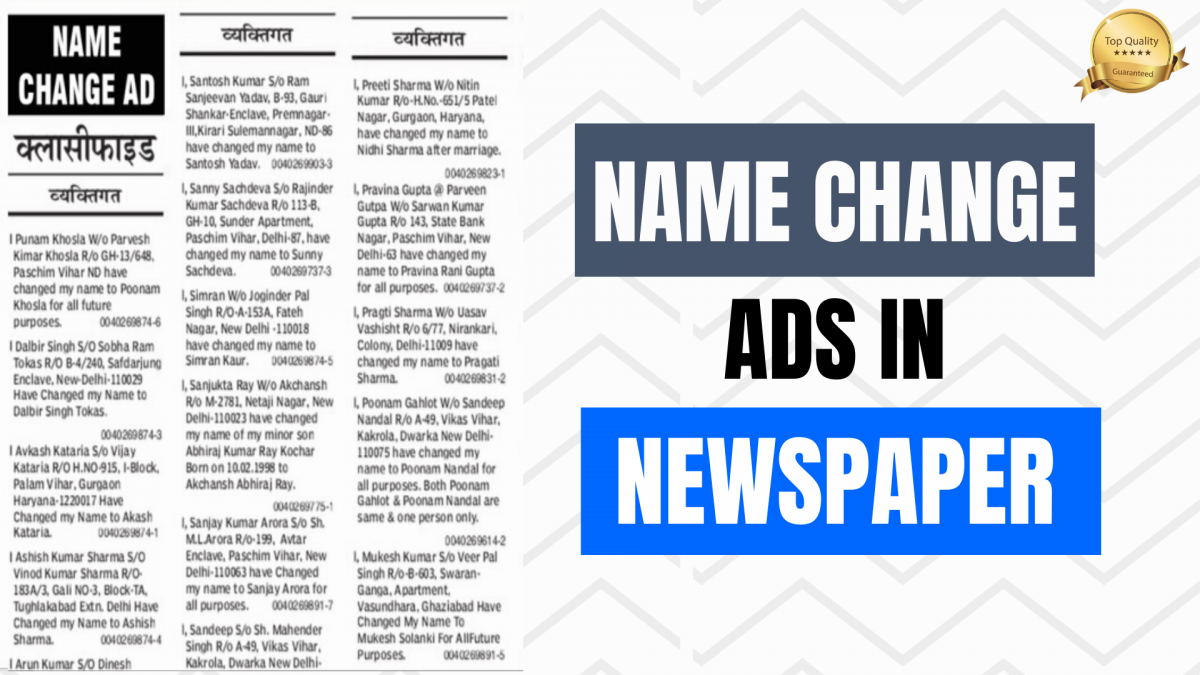 Step -3 : Gazette Notification for Name Change in Passport in India
This rounds up to the official completion of a name change process. Name change of individuals employed under the Government is mandatory to release a Gazette notification while for others it is an option. Get it published in the official Gazette of the respective state. Fill up the necessary forms, provide the proof, pay the fees for the notification. As it stands as substantial evidence that requires relevant documents for the notification, most people opt for it.
and after a month you will gazette nofication. which will help you name in passport in India. The above three steps are performed mostly at the Central Gazette office of India.
Other-Step Procedure for Name Change in Passport in India and these steps will be performed at the passport office of the state where you registered as citizen of particular state.
Step 4: Gather the necessary documents for Name Change in Passport in India
Gather all the needed paperwork, including the affidavit or deed poll, any supporting documents, and any forms associated with a passport.
Step 5: Obtain an affidavit or deed poll for the name change in Passport in India
Create a deed poll or affidavit stating your intention to alter your name in India. Ensure the paper is created according to the guidelines and signed by the proper authority.
Step 6: Prepare supporting documents for verification of name change in passport in India
Collect all the evidence you'll need to prove the name change, including birth certificates, diplomas from colleges or universities, marriage certificates (if applicable), and other legally valid documents.
Step 7: Submit the application for the name change in Passport in India
Complete the passport application form thoroughly, including all required information and supporting documentation. Depending on your preferred application channel, submit the application form, affidavit or deed poll, and accompanying papers online or offline.
Step 8: Attend the appointment (if required) for the name change in Passport in India
Occasionally, applicants might need to schedule an appointment or an interview at the passport office. Attend the meeting at the scheduled time with all original documentation in hand for validation.
Step 9: Tracking the status of your application
To keep track of the status of your application, use the tracking tool offered by the passport authorities. You can accomplish this by calling the hotline or visiting the official passport website.
Step 10: Collecting the updated passport
After the application has been reviewed and accepted, go to the official passport office to pick up the updated key. Check that all facts, including the name, are appropriately recorded in the new key.
Eligibility criteria for Name Change in Passport in India
To change the name in your passport in India, certain criteria must be met in India. The most common circumstances that warrant a name change include marriage, divorce, or legal name change. Supporting documents to prove the legitimacy of the name change request are essential. This information is crucial for those who wish to update their identification and official documents.
Depending on the cause for name change in passport in India, different individuals may qualify for name changes in India passports. Those who want to alter their name must be India citizens and have the required paperwork.
Legal requirements and documentation for Name Change in Passport in India
1. Affidavit or deed poll for a name change in passport from India
Affidavits or deed polls are acceptable legal documents that people seeking name changes must present. This document, which announces the intention to change the name, is usually created by a notary public or on non-judicial stamp paper.
2. Verification-supporting documentation from India
Along with the declaration, individuals must submit supporting documentation to support their request for a name change in passport in India. You may need official documents that show the connection between your old and new names, such as birth certificates, academic transcripts, and marriage licenses (if applicable).
 3. A marriage license from India, if acceptable
A marriage certificate issued by the appropriate government agency must be provided as supporting documents if the name changes result from the result of marriage.
Passport Name Correction Fee in India | Fee For Name Change in Passport in India
There is a charge associated with the name change procedure in Indian passports, and the price may differ based on the particulars and method of processing (online or offline). Although the processing period varies, it typically takes a few weeks to two months.
Online Versus Offline Name Change in Passport in India
For name change in passport in India, the India passport authorities offer both online and offline application alternatives in India. Individuals can complete the application form online, add supporting files, and make electronic fee payments. The offline method delivers a physical application form and all required paperwork to the closest passport agency.
Common Challenges and Solutions for Name Change in Passport in India
Delays or rejections in the application process in name change in passport in India are:-
Document discrepancies
Incomplete documentation
Name change after marriage
Legal name change:
Additional verification
Some other common reasons for rehection of application in deatils
1. Reasons for rejections in India
inaccurate or incomplete application materials.
Incorrect or insufficient supporting documents.
Information that is given that is inconsistent.
Failure to follow specified requirements or norms.
 2. Ways to avoid common mistakes for name change in passport in India
Read and comprehend the directions given by passport officials with care.
Before applying, make sure everything is accurate and complete.
Verify that all supporting documentation is accurate, current, and complies with all specifications.
Examine and confirm that the material is accurate and corresponds to other official papers.
If you have questions about any part of the application, seek clarification or advice from the passport office or experts.
Obtain any extra records or proof that may be used to prove the connection between the previous and new names.
To learn the precise procedures for correcting problems, speak with passport officials or legal experts.
Give a justification or affidavit outlining the contradictions and any required proof.
To fix the errors, adhere to any further instructions provided by the passport authorities.
Take Help From yourdoorstep for Name Change in Passport in India
Individuals with expertise in passport and name change issues might be consulted for legal counsel if faced with complicated circumstances.
Legal professionals may advise on the rules, paperwork, and steps of the name change process.
Any legal issues, inconsistencies, or worries that can surface throughout the application procedure can be addressed with their help.
A successful application is more likely to succeed when legal counsel is sought, and it may also help you avoid potential pitfalls.
Special Cases and Considerations for Name Change in Passport in India
 Name change due to marriage or divorce
In the event of a marriage, people can update their passports with a new name by submitting a marriage certificate as identification.
By presenting a divorce decree or court order, people can restore their pre-marriage names in the event of a divorce.
 Name change for transgender individuals
By providing supporting documentation, such as a self-attested affidavit, medical certificate, or identity certificate issued by the proper government, transgender people can alter their name and gender marker on their passports.
 Name change for minors
Extra paperwork is needed for minors, such as a birth certificate, an affidavit or consent letter from both parents or legal guardians, and other supporting papers.
In some circumstances, a court injunction could be required.
Name change for adopted individuals
Adopted people who provide official adoption documents, such as adoption orders or certificates, can alter the names on their passports.
The legal connection between the adoptive parents and the adopted person should be stated in the paperwork.
It is crucial to remember that the particular requirements and steps for name changes in these exceptional circumstances may change depending on the policies of the passport authority and the person in question. In these unique circumstances, you should check with specialists or the official passport website for comprehensive and current information regarding the name change procedure.
Frequently Asked Questions (FAQs)
Can I change my name on the passport without a legal name change in India?
In some circumstances, changing your name on your passport in India without a formal name change is possible. A marriage certificate or divorce decree can document a name change in situations like marriage or divorce when they are usually applicable. However, precise criteria could differ, so it's best to speak with the passport office or a lawyer to learn the applicable rules.
What if my passport has already expired which i made in India?
Before applying for a name change, you must renew your passport if it has expired. A current key is often a need for the name change procedure. After completing the passport renewal procedure indicated by the passport authorities, you can go on to the name change procedure.
Can I change my name multiple times on the passport in India?
The rules for repeatedly altering a person's name in a passport in India may change. The passport authorities may have limits or additional criteria for subsequent name changes in India, and frequent name changes are typically not approved. To learn the exact rules and prerequisites for repeated name changes, it is advisable to speak with passport officials or legal experts.
Can I change my name on the passport if I live abroad?
If you reside abroad, altering the name on your passport is possible. Usually, the procedure entails submitting the necessary paperwork and an application through the Indian embassy or consulate in the nation of residency. Contact the relevant embassy or consulate is advised for further information and direction, as the precise requirements and processes may differ.
How long does the entire process take in India?
In India the passport authorities' effectiveness, the application's thoroughness, and unique circumstances can all affect how long the name change procedure takes. The process often takes a few weeks to a few months. It is essential to consult the official passport website or contact passport officials to determine how long processing will take. You can also watch the application's progress using the available tracking tool.
Name Change Agent in Passport In India
Navigating the name change procedure can be challenging, particularly in unique circumstances or when addressing document inconsistencies. For precise information and counsel catered to their particular circumstances, it is advised that take professional assistance from passport officials or legal specialists.
Numerous advantages result from successfully changing one's name on their passport, including the alignment of their identity with their official papers, the legal acknowledgment of the name change, and the facilitation of hassle-free travel and business dealings. It enables people to securely define their identity on a national and international level and take advantage of the rights and benefits connected to their preferred or chosen name.
Conclusion
Finally, the procedure for changing a name on an Indian passport is a crucial step in bringing individual identity and official paperwork into alignment. People may successfully navigate the process and reap the rewards of a successful name change by following the proper steps. When necessary, getting expert help will guarantee thorough procedure direction. You can take help of yourdoorstep for name change in passport in India as well or take hep of any other passport agent in India.