Passports are legal documents that serve as proof of identity when visiting foreign lands. Therefore, this is an important book for travelers who frequently travel abroad. There is significance in its contents since it contains the bearer's name, and when a person changes their name, they have to update their passport as well and get a brand new one. In this article, we will talk about the Name change format for passport.
There are many Indians who are changing their names even though there is no mistake, but they are completely changing their names to fit in with today's generation. A person cannot change their name again after changing it once, since it is a one-time process. Whenever a person changes their name, they need to ensure that all their legal documents have been updated, because if one document has not been updated, things may become difficult.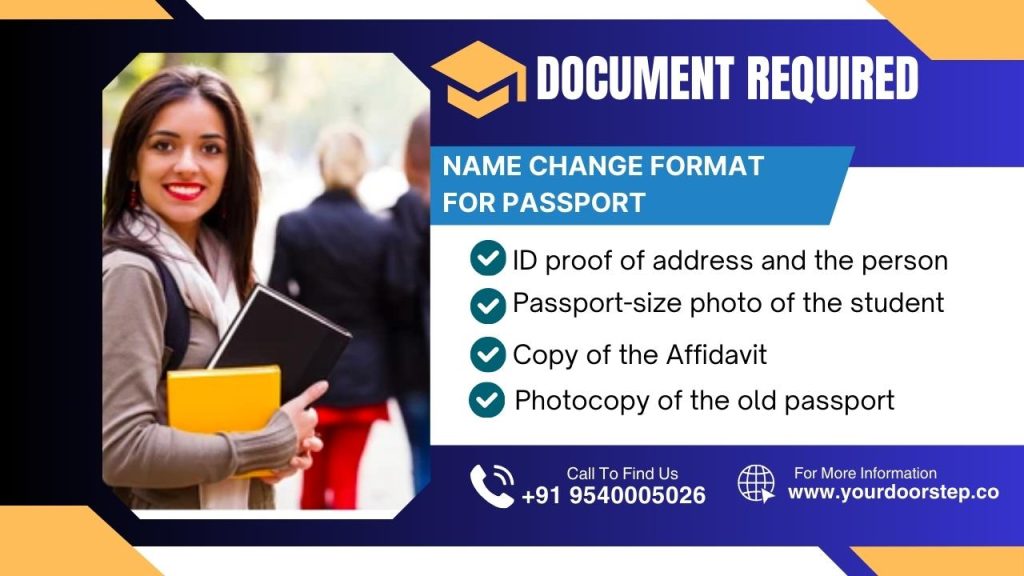 Documents required for passport name change
Below are the listed documents that will be needed for a name change for a passport along with following the Name change format for passport:-
The original and the photocopy of marriage if the people are married.
If the person is married then the photocopy of their spouse will be needed.
ID proof of address and the person
Photocopy of the old passport of the first and last two pages. It should also include an ECR and a non-ECR page.
The old passport should also contain the page where the expiry of the passport is written. 
The reason for the passport name change application must be submitted.
The articles were published in the two newspapers about the name change and the affidavit of the name change. 
Reasons for name change in passport
The reasons for changing a person's name are many, but here are some common ones:
When a person gets married, divorced, or remarried, they change their entire name
Name changes caused by a change in religion or astrology.
In order to fit in with modern society, some people change their names so they can adapt to it. 
Read More:- Passport Name Change Documents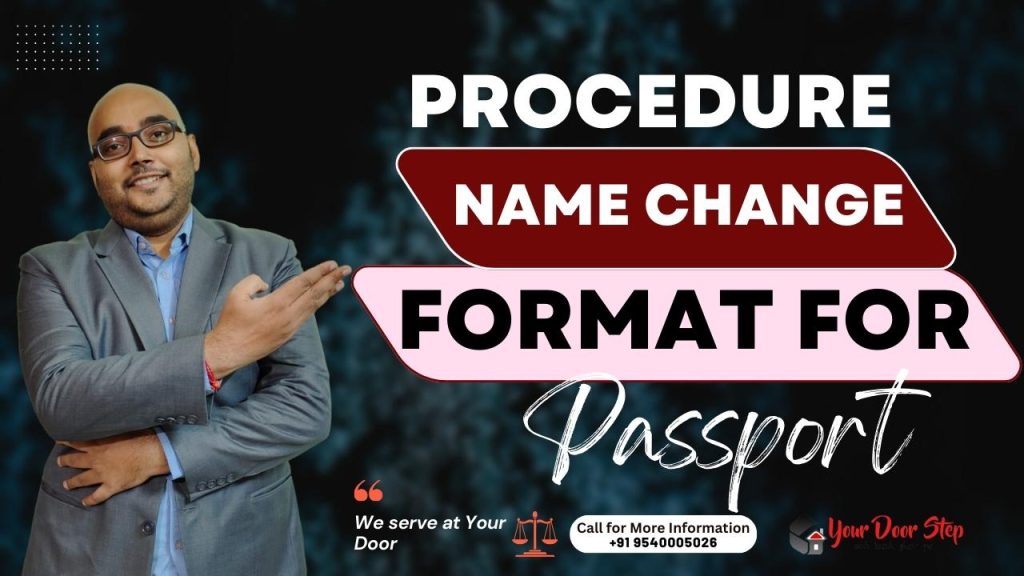 How to change the name on my passport?
To change or rectify the name on a passport, follow the steps below and apply for a new passport and you need to follow a particular name change format for passport: here are the steps:-
An individual must first visit the Passport Seva official website and register.
Log in with your ID and passport after clicking the register option and select whether you want to reissue your passport or apply for a new passport.
The applicant will be asked to fill out an application form after providing all the information.
Following the submission of the application form, you must pay the amount requested and arrange an appointment with the officials. The applicant must pay a specified amount to the Regional Passport Kendra or Passport Seva Kendra.
Your application will be visible on the next page after you have made the payment, so you should print it to get the challan. Your reference number is printed on the printed paper. All you have to do now is take the printed reference application form to your nearest passport office for verification.
Name change format for passport
If a person is applying for the name change application passport then they should follow the below name change format for passport:
I ____ (full name) holder of an Indian passport ____ (passport number) have a request to make. I hereby confirm the following points.
I want to change my name from ___ (old name) to ___ (new name). The procedure of name-changing has been completed.
(If a person is married or divorced, then this line should be mentioned) I want to add or delete my spouse's name from my passport because I am married or divorced. 
I want to correct my name and surname on the passport. Currently, it is ____ and it should be ____ ( write properly both the name and surname).
(If you want to make changes in a minor's name then this line should be mentioned) I want to correct my child's name on the passport, it is written ___ (old name) and it should be written as____ (correct name with proper surname). 
Signature of the applicant:
Date: (the date should be mentioned as the day on which you are submitting the document)
Address:
Mobile number:
Email address: 
The above name change format for passport should be used by everyone. 
Conclusion
From this article, we wish that everyone is aware of the name change format for passport and how important it is to do it. It is not a difficult process anyone can do if they have patience. There is one thing they should be careful about: the name can be changed only once according to the Indian Law so you shouldn't make any mistakes and check every document and application twice to ensure that everything is correct and then only you should submit it to the authorities.
Read Also:- Passport Name Change After Marriage
Frequently Asked Questions
How much does it cost to change the name and address on the passport?
The application fee for the re-issue of a passport is Rs. 2000 if the validity of the passport is 10 years that is 60 pages, and Rs. 1500 for 36 pages. If there is a case of Tatkal then the applicant has to pay Rs. 2000 more. This is for adults, now for minors: the cost of re-issue of passports is Rs. 1000 for 36 pages, and for minors also it requires Rs. 2000 for Tatkal application.
Do I need an affidavit for the name change format for my passport?
 Yes, an affidavit is required in the procedure for name changing in the passport, because affidavits are like a declaration of anything done by people regarding any legality in their life. An affidavit should be made on a proper stamp and signed by a proper notary.
Is the Gazette application enough for the passport name change process?
Ans. Sometimes the Gazette application is enough to correct any legal documents including passports but it also depends on application to application if it is required to publish articles in the newspaper. There might be a chance that only with the Gazette everything will be sorted and sometimes the notary might ask for other things also.
Does changing the name on the passport affect our visa?
No, there won't be any effect on your visa you can use it as long as your passport is not expired but is important for you to follow the concises Name change format for passport.
Can I still use my old passport until my new passport arrives?
No, it would be legally wrong to use your old passport. You should wait for your new passport and if the name is already corrected then you shouldn't use your old passport at all. 
Does a name change in a passport require police verification?
Yes, the applicant must undergo police verification for a name change.