Change Name in Aadhar Card After Marriage: Women often change their names after marriage as part of their culture or as a personal choice. The Aadhar card is one of the documents in which they change their name after marriage. Throughout this article, you will find all the information necessary in order to change your name in your Aadhar card after marriage.
It is very easy to Change Name in Aadhar Card After Marriage by sitting at home; you only have to contact Your doorstep, our name change agent is skilled and can assist you with everything.
What is an Aadhar card?
Aadhar cards are issued by the Unique Identification Authority of India (UIDAI). It is a universal document that proves the identity and address of a citizen in India. Each Indian citizen has an Aadhar card that serves as their unique identity. Citizens of any age can obtain an Aadhaar card, and it does not need to be renewed. Aadhar cards are necessary for Indian citizens because they are required for a number of document processing processes. 
Using the Aadhar card, citizens can collect their biometric and demographic data. 
 The Aadhar card contains a 12-digit identity number. Every citizen with an Aadhar card has a unique 12-digit identity number. In the government's database, this unique 12-digit identity number stores personal details about each individual. This is how you can get your Change Name in Aadhar Card After Marriage.
Benefits of Aadhar card
Bank account
The process of opening a bank account requires multiple documents and proof of identity. You can open a bank account using your Aadhar card instead of carrying multiple documents such as proof of identity, address, occupation, etc.
Applying for a passport
An application for a passport or renewal of a passport involves a lot of time and precise information. This process becomes easier with the Aadhar card, and a person can apply for the passport online and attach their Aadhar card as proof of identity and address.
Income tax returns
It is mandatory to provide Aadhar card and PAN card numbers in order to file income tax returns.
For using DigiLocker
DigiLocker is introduced by the government of India. It is used to store personal documents. One can sign up in DigiLocker by providing their 12-digit Aadhar card number.
Aadhar as a multipurpose card
The Aadhar card contains multiple details about an individual, making it a multipurpose card. It can be solely used for many purposes, such as passport renewal, vote ID or government services. A citizen's information such as address, age, occupation, mobile number, and identity proof is all comprised in an Aadhar card; in that way a 12-digit Aadhar card number can be provided instead of multiple documents to avail of government programs or services.
Easy to carry
Aadhar card carries all the important information of a citizen, it is also easy to carry, and one can also have a soft copy of the Aadhar card, which ensures the safety of the original Aadhar card and the risk of losing your original Aadhar card.
Read More:- Change name on Driving Licence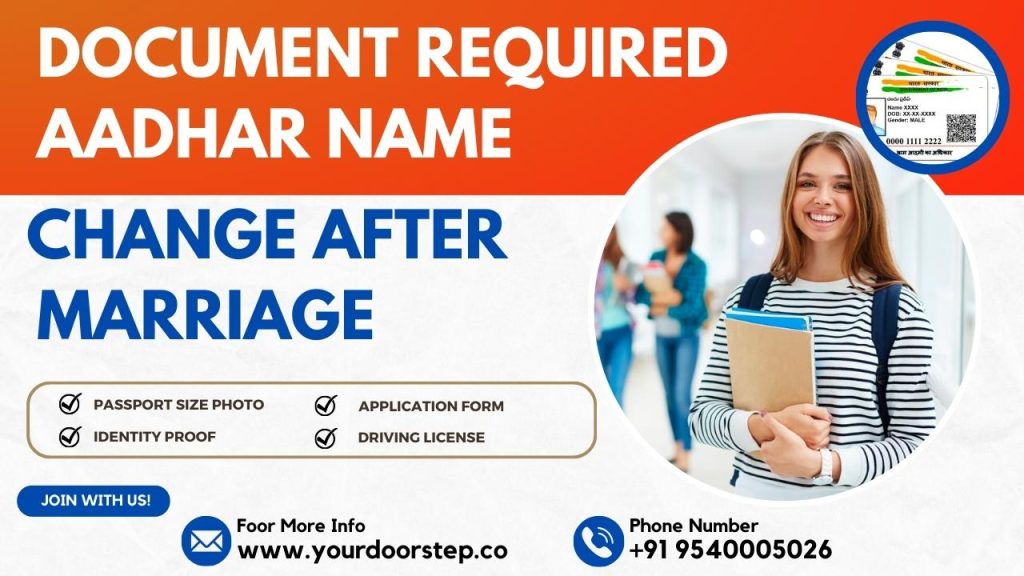 Documents required for Change Name in Aadhar Card After Marriage
Documents required for Change Name in Aadhar Card After Marriage are listed below. You can update your Aadhaar card both online and offline using these documents:-
A marriage certificate is mandatory, 
Along with the marriage certificate, you can submit any of the documents mentioned below:-
Passport
Voter ID
PAN card
Driving license
Ration card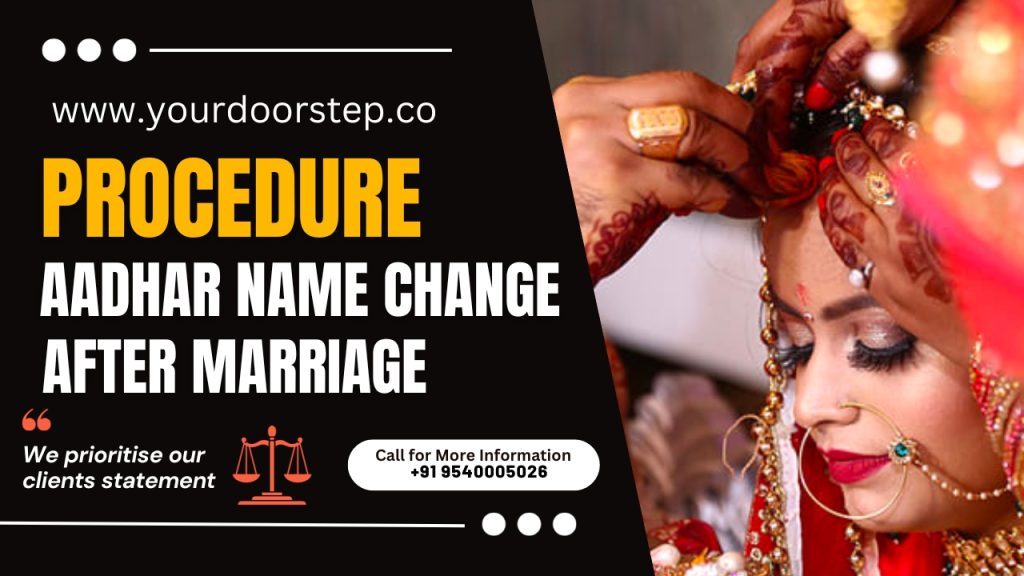 Online process of Aadhar Card name change after marriage
The online process of Change Name in Aadhar Card After Marriage is very convenient and easy. 
Open the website of UIDAI. You will then need to log in or register as a new user, and this could be done via a mobile phone number or an Aadhar card number.
Log in to the website using the 12-digit Aadhar number, and they will send you an OTP on your registered number, verify it.
Submit the application for the name change.
Submit the documents needed for the name change. The documents should be self-attested and scanned.
You will receive the OTP on your mobile number to authorize and verify your identity and name change.
Enter the OTP where it's needed, and last, download your acknowledgment slip.
Once the documents and OTP will be verified, you will receive the message on your registered mobile number.
Offline Process for Change Your Aadhaar Name after Marriage
Visit the Aadhar enrolment center, where ask for the application form for the Change Name in Aadhar Card After Marriage.
Submit the Aadhar card and other documents required for name change after marriage. Attach the necessary documents with your application form to get the approval.
Fill and submit the given form along with the documents, and all your documents must be self-attested.
The documents will be scanned and returned to you once they have verified them.
Once the process is completed, you will receive the acknowledgment slip; take the acknowledgment slip with you.
You can visit the nay of the Aadhar card service center to get your name changed on it, as serves as the legal document.
Important points to know before getting an Change Name in Aadhar Card After Marriage
Aadhar name change after marriage is easy for anyone to go for; however, you must keep all your documents ready to change your name, and this could allow you to get a lot of benefits after you change your name; it does show your identity.
There are some points that an individual must know to change their name on an aadhar card after a marriage; here are the points:-
Once you have applied for the online or the offline application of the Change Name in Aadhar Card After Marriage, you will be issued one URN ( update request number ). 
The whole process of name change takes around 90 days, and you can get your e-Aadhar card after changes once you have received a confirmation message for the Aadhar card update.
You need to submit your information that is reliable and does not try to provide false details.
Ensure you have self-attested all the documents; this could reduce the risk of disapproval due to document verification.
You can easily track your application status by logging in to it on the official website, where you will be updated with the latest information on the process of your Change Name in Aadhar Card After Marriage.
Conclusion
Change Name in Aadhar Card After Marriage is a simple and important process. Following the steps and providing the correct information and documents, you can easily get your Aadhar card with an updated name.
Read Also:- Can We Change Name In Birth Certificate
Frequently Asked Questions (FAQ)
How many days will it take to update the name in the Aadhar card?
It may take 90 days to update the name change in the Aadhar card.
How to get the details and updates regarding name change in Aadhar card?
You can check the updates and details regarding the name change in the Aadhar card via the update request number (URN), which is given in the acknowledgment slip.
What is the fee for a name change in Aadhar card?
It costs rs50 for the offline process of name change in Aadhar card while the online process of Aadhar card is free of cost.
How to receive the updates Aadhar card?
You will receive your updated Aadhar card via Indian post from UIDAI at the address given in your Aadhar card.